September 01, 2015 (updated 2 years ago), Chemtable Software
How To Free Up a Lot of Space after Upgrading to Windows 10 with Reg Organizer 7.20
Some users have already upgraded to the new Windows 10. At the same time, the previous version of the OS is securely backed up in a separate folder (in case you want to roll back things and return to the previous version). This folder takes a serious amount of space, 25-30 GB on average. If you plan to use the new version of the OS further and don't want to go back to any previous OS you had, you may want to use the updated Reg Organizer 7.20 to properly remove the previous Windows version and all temporary setup files of the new one.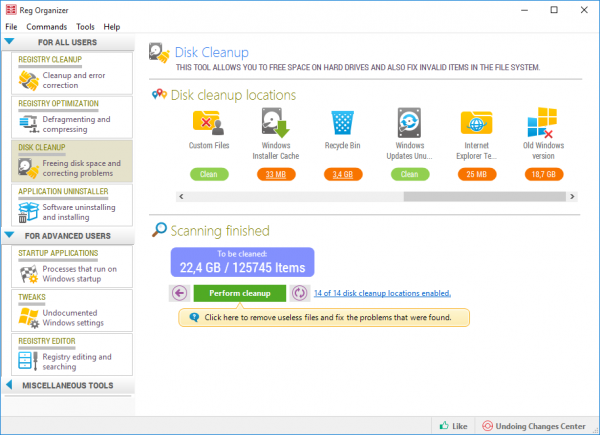 How To Delete Unnecessary Files Left after Updating to Windows 10
If you want to remove the previous version of Windows (even if you have already updated to Reg Organizer 7.20 via the automatic update), then simply download the latest build using the button below. This version features activated settings for removal of the old OS and temporary files. Install it and run the disk clean up tool.
Download Reg Organizer 7.20
Also, you can activate these settings manually as long as you have the latest version:
1. Run Reg Organizer and open its settings ("Commands" -> "Settings").
2. In the "Disk Cleanup" section, select the "Disk Locations to Scan" element and check the "Old Windows version" item.
3. Click "OK" to save settings.
Then run the disk clean up function and perform a scan. On the last step, the folder with the previous version of the OS is analyzed. On some computers this may take several minutes, while those machines that have SSD disks perform it rather quickly.