December 10, 2014 (updated 2 years ago), Chemtable Software
Why Your Computer Works Slowly and How To Fix This
Even high-end modern computers working under Windows OS may start working slowly. Some replace it with a new one immediately; others try to fix the problem using various applications, successfully or not.
Below you can find several reasons for system slowdown, and learn the most efficient ways of solving such problems. You can rejuvenate your PC without replacing it (as long as all components of the computer are functional and healthy).
Virus Activity
Viruses produce a lot of difficulties for a user. Not only lost or damaged files, but also stolen personal data or electronic money can become the target of malware. Viruses can also slow down computer operation. So if you have noticed a serious decrease in the performance of your computer, check it with an antivirus scanner. Two of your best options are DrWeb CureIt! or Kaspersky Virus Removal Tool by Kaspersky Labs. Both tools are absolutely free.
To prevent further infection, you should check suspicious files using the VirusTotal web-service. It checks a submitted file using all major antivirus software and displays a report on each antivirus scan's results. This check is extremely important when you download files from untrustworthy or unknown websites that you see for the first time.
Antivirus Software
Even though antivirus software is vitally useful and protective, it can also cause a significant slowdown of the system. In some cases the loss of performance can be enormous. It especially depends on the protection level set in the antivirus.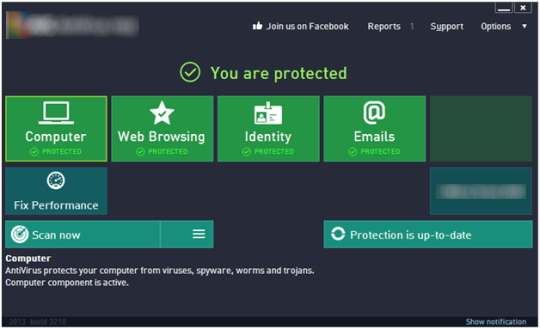 In effect, today's antivirus software is a digital nanny revising all information before a user really gets access to it. The more protection functions that are turned on, the more time it takes for the antivirus to verify the data, and the longer a user has to wait.
If your computer has started stuttering, but there were no viruses found in it, you can try to disable some antivirus modules to see if the performance slowdown is related to antivirus protection. Ideally, you should remove or disable the antivirus software completely. This would say for sure if it is the reason of the slowdown.
If the PC lags due to antivirus software, you can disable some protection components or switch to some other antivirus solution.
Too Many Applications in Memory
When you install new applications on the computer, many of them add themselves to autostart and run with the system when you boot the computer. You may even not know that such a program is running.
Every program running in the background takes free resources of the system resulting in an overall slowdown of the computer. Remove unnecessary and unused programs from the memory and you'll immediately notice your computer start to work much faster.
You don't have to uninstall the program completely. If you use some application only occasionally and you see it runs on startup of the system, turn off this option in the settings of that application, or use the Startup Application tool in the Reg Organizer utility.
Low Disk Space
Windows operating system requires a free space on the system disk. This is especially important if there is low RAM on the computer. Windows starts lagging in that case. To avoid the slowdown, try leaving at least 20-30 percent of disk space unoccupied; do not fill the entire disk up to the brim.
The simplest way to achieve this is to simply uninstall unused programs. For the most efficient uninstalling, use the Application Uninstaller tool in Reg Organizer, because it scans the system for residues in the file system and removes them along with the main application files. A typical uninstall may leave these leftovers and temporary files undeleted.
If the system disk also stores work files, archives, backups, photos, and videos, think of moving them to another disk, transferring them to a cloud storage, or zipping some documents. Overall, this can free up a decent amount of space on the system volume.
***
The main reason why Windows works slowly, given that all computer hardware works properly, is the lack of system resources. Viruses, antivirus software, and various applications can consume a lot of resources. To fix the slowdown of a computer, you should find the origin of the issue and eliminate it.
Don't forget, there is no magic in the world, so if your computer is old and has too little RAM, then you should probably consider upgrading your computer at least partially (for example, adding more memory) or replacing it with a more powerful machine.
Announcement
The new Reg Organizer 7.0 is about to be released. It will have the completely remastered Disk Cleanup tool and the new startup applications optimization feature. Stay tuned.